Kartika Nair Synchroshakti by Tiziana Palazzo
15 May, 2014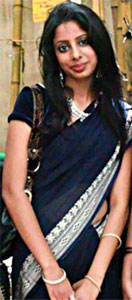 My journey into personal development began from a very young age, when i took to spirituality, trying to understand myself and my connection to the universe around me. I grew up discovering who I was, what my perception of the world was, as opposed to what we are told to believe, and what my purpose for this life was. I am almost 23 years old, and my purpose here is to become the best version of myself and extend the lessons I am learning on my journey to people all around the world and of all ages.
Tiziana: How and what made you discover your life mission?
Kartika: I used to, for a long time, observe the world unfolding outside myself, and some things, like separatism, greed, lack of respect and value for all forms of life, seemed to feel odd for me. I knew either there was something off about the way we have chosen to function as a race, or that there was something odd about the way i chose to perceive the world.
I started sharing my views with close friends and family, and i found similar views that i felt was true for me in spiritual as well as self help books across time. What i was able to share with people seemed to impact them and my evolution simultaneously. Seeing positive results in people's lives, based on sharing my story and learning, simply by giving them a direction to look within themselves and ask the wise soul within themselves for the answers to their challenges, seemed to give me a great sense of value and worth, as well as a burning passion to make a real difference in individual spiritual lives.
It was in October of 2011, that i began to share my learning with the world by creating my own YouTube channel "Synchroshakti", so that by sharing what resonated with me through my own life experience, maybe someone out there might find the inspiration to look within themselves and live a better life. The immense satisfaction of doing the work I do, by hearing back from people, and just knowing that I am creating a ripple of positivity in the fractal of human consciousness, makes me feel that I am fulfilling my mission in life, which is to help myself and everyone else be the best version of themselves, and reach their spiritual potential.
Tiziana: What is your message to the new generation of people?
Kartika: I believe the new generation of people are the messiahs, who come forth to bring back compassion, love and respect back into the world. My message to everyone is simply to get in touch with themselves as a priority.
Giving ourselves love and respect and extending that to help humanity and all life on this beautiful planet should be an integral part of our evolution as a species. I encourage this generation to not hate, push away or separate people, animals and all life forms, but instead come together, love everyone in all their varied personalities, and function together, creating a world, we know is possible.
Tiziana: Which are 3 tips that you can suggest to make a change in life?
Kartika: The three tips to change your life:
Have dreams, but live in the moment.
Be grateful for all that you have.
Spend time loving yourself and working towards your highest personal development.